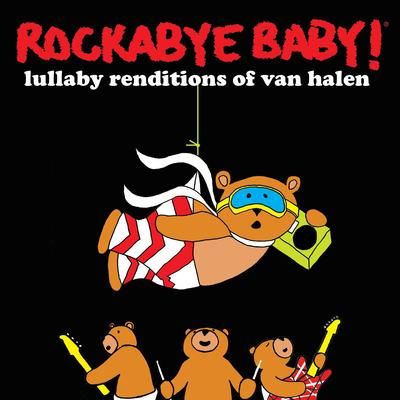 It is that time again! Rockabye Baby is just kicking out these new albums like the Duggars are getting knocked up!! haha! Okay, sorry about that – just kidding! (sort of!)
For those of you that have followed Building Our Story for the last year or so know that these (any of them) CD's have been lifesavers for us with Jude's wonky sleeping habits. With out Rockabye I don't think we would have had much sleep – PERIOD!
If you are a Mother, Mommy to be, Aunt, Uncle, Daddy, Dad to be and you haven't heard or bought one of these albums you need to go to the
Rockabye Baby website
ASAP and get your arse in gear! These CDs are perfect for any age – honestly I sleep better when I can hear the Lullaby coming through the monitor! I am hooked too!
Recently, Jude was sent the most recent Rockabye Baby Album for his review. Jude gives Van Halen 2 thumbs UP!! WAY UP! Okay – he doesn't really care what song plays so let's be real – Mommy and Daddy give this new album 4 thumbs up!!! LOVE IT!! Some of our favorite songs include: Hot for Teacher and You Really Got Me!
This is a really exciting album release for Rockabye Baby because David Lee Roth is the brother of the Executive Producer, Lisa Roth, of Rockabye Baby! How fun for them! Oh and if you do not know who David Lee Roth is – GOOGLE IT!! ;o)
Now – for the good stuff!
Rockabye Baby has offered 1 of my lucky readers to receive 1 Rockabye Baby CD of their choice! Lucky Lucky!! Will it be you?
This giveaway will be run by Rafflecopter — please follow the instructions below! You must do the 3 Mandatory entries in order to qualify for the win!
***Disclosure: The products in this review was provided to me free of cost for the purpose of conducting this review. All opinions expressed in this review are my own and are not influenced by monetary compensation.


Use the Rafflecopter Entry form below to enter this giveaway. *Must be a GFC follower of Building Our Story to enter this giveaway.

RafflecopterSettings = {
raffleID: 'NDM1NzJjYjAyYzlhODk0Yjc4MTAxNmE0MzE1NjgwOjEw'
};
<a href="http://rafl.es/enable-js">You need javascript enabled to see this giveaway</a>.