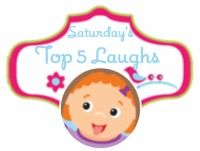 Saturday already. Thank you weekend!!
Work was ROUGH this week. Not going to lie – I had a moment that I wanted to walk out of my office and be done. Like I said, it was rough. But now sitting here writing about my Top 5 Laughs of the week I am feeling better and very thankful for the family and love I have in my daily life.
Ready to laugh?
5. Well I started Weight Watchers this week. YAY me!! After my first meeting I put in all of my meals for that day (wasn't following the plan) and I just laughed when I saw how many points were gone in 1 day! Oh my gosh – made me nervous BUT I am doing well now! 😉 It was a little scary yet funny when I saw the points keep adding up.
4. Criminal Minds – have you watched this show? Okay, Jeremy and I are addicted. Like FUNNY addicted! Lol We cannot NOT watch the show when it is on. And when silly A&E does their Criminal Minds marathon we are stuck. Quite funny when we flip through channels and there it is! There goes our night!
3. Jude has been sick for the last week (stomach bug) and on Tuesday after his nap he woke up and threw up in his crib, poor baby!! When my mom went in to check on him she found him sitting in his crib with puke all over him, sorry for the visual, and he looked at my mom and said "Uh Oh!" Okay, now it is sad but it makes me laugh when I think about it! Yeah Uh Oh Jude! Lol
2. Jude is growing up, it is fun because every new milestone brings a smile to my face. Tonight we went to dinner with my parents and we got him chicken strips for dinner. He started wanted to dip his chicken in ketchup. It was so cute to see him dipping the strips in and eating them! Great motor skills! He was hooked on using the ketchup! Even the waitress was laughing.
1. Jude loves to dance all the time but recently we were watching a TV show with Pit-bull and TI and Enrique Iglesias performing and that kid got going! I mean his arms were moving, his hips were going crazy and his feet were stomping. It was so funny! We just kept telling him – "dance Jude!" and he did! I was in tears I was laughing so hard. He melts my heart and makes me so happy!
Thank you for laughing with me today!