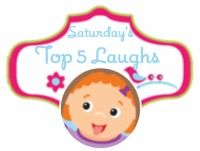 Wow things have been busy recently. I kind of feel out of the loop on the blogging spectrum! Hoping after the holidays I can get back on track. But for now I want to share with you my Top 5 laughs this morning! :O)
If any of you are readers of Building Our Story you know that Jude has us in laughs daily so sometimes it is hard to pick out the top 5 of my week but I always have something to choose from!
Five:
Jude loves Grover on Sesame Street. Especially Super Grover! We ask Jude to be "Grover" and he proceeds to stick his arms out like he is flying and then "crashes". His crash is him swinging his arms and then rocking his head back and forth and saying BOOM!! LOL Adorable! Cracks me up every time!
Four:
Jude had his 18 month pictures last week. He did well but it is hard for him to sit or stand still long enough to get a decent picture of him. So we asked him to sing his spider song for us while the lady took his picture. He sings his spider song with his grandma (Jeremy's mom) every time we talk to her on Skype. It is adorable. He does the cutest little spider with his fingers and we are lucky enough to have caught that spider in a picture! When we saw this we laughed!
Three:
It took Jude 4 days to open all of his Christmas presents. This means a couple of things. He is WAY spoiled and has ADD! He couldn't focus on more than one gift at a time. I wonder when he will grow out of that?
Two:
We went to Christmas Eve candlelight service on Christmas Eve with my family, a family tradition. Now I love our church but I will be the first one to say that it is pretty traditional and old fashion Lutheran. There isn't clapping or cheering after the message or songs BUT on Christmas Eve there was! Guess who it was? Once guess! 😉 Oh Jude we love you and good thing you are adorable. He had our church laughing. After every song ended (and there was a lot of singing in this service) he would clap and yell "YAY!" It was the cutest little "YAY!" every time. At first we said no to him but then after the third time we just laughed and gave him hugs. He is a music baby and a happy baby and I am proud of that! If he felt moved to say "YAY!" more power to him!
One:
We went to the Denver Nuggets (NBA) game a couple nights ago. Jude was a little overwhelmed with the music, lights, people and noise but I think he had fun. During the halftime show the mascot (a mountain lion) did his own rendition of the "Nutcracker". Well like any mascot he ended up racking himself on a balance beam and falling to the ground – normal right? Funny right? Um not if you are Jude! LOL Now it is okay to laugh at my son because we did. Instead of laughing at the silly mascot Jude CRIED!! He kept saying "UhOh!" and shaking his head and pointing at the mascot crying. Such a sweet boy! But the best part, the next morning he remembered the incident. He cried when we asked if he had fun at the basketball game. Silly Turtle!
Wow so Jude is pretty much THE person that makes us all laugh!
What made you laugh this week?