This morning I am linking up with a couple a great Mom Bloggers!
Make sure you visit them both and link up your money/time saving blog posts!
She Works Hard For The Money (SWH4T$) Hostesses:
Recently we jumped back on the Meal Planning bandwagon. It was time to get our eating out in check and work on our waistlines and check books while doing it!
Since joining Weight Watchers I have started exploring more dinner recipes that are appealing to me and to the hubs but that fit into my points as well. Thankfully Weight Watchers has a ton of great recipes and options so it has been be fun so far! I want to share the recipe that we tried on Sunday evening. It was yummy, filling and so easy to make! Even Jude had some!
Baked Turkey and Jack Cheese Chimichangas – 6 points per serving (1 Chimichanga)
Ingredients:
2 spray(s) cooking spray
1/2 pound(s) uncooked ground turkey breast
16 oz fat-free canned refried beans
1 3/4 cup(s) fat free salsa
4 1/2 oz canned green chili peppers, mild, drained and diced
1 tsp chili powder
3 Tbsp uncooked scallion(s), thinly sliced
1 cup(s) shredded reduced-fat Monterey Jack cheese
8 large burrito-size wheat flour tortilla(s)
1 cup(s) fat free salsa
1/2 cup(s) fat-free sour cream
Instructions:
Preheat oven to 350ºF. Coat a large skillet with cooking spray. Coat a 13- X 9- X 2-inch baking dish with cooking spray.
Add turkey to skillet and cook over medium-high heat until lightly browned, about 5 minutes. Drain any excess liquid from pan and then add beans, 1 3/4 cups of salsa, chili peppers, chili powder and scallions. Cook until heated through, about 3 minutes; stir in cheese.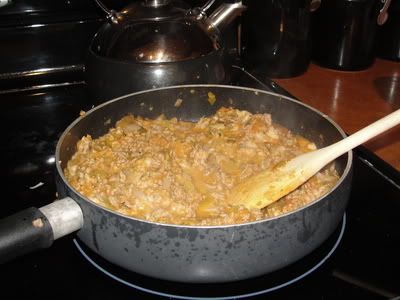 Meanwhile, wrap tortillas in foil; warm in oven for 10 minutes.
Assemble chimichangas by spooning about 1/2 cup of turkey mixture onto each tortilla; fold in sides and roll up.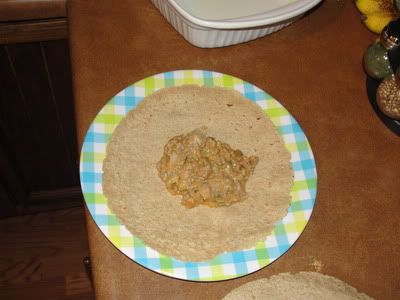 Place chimichangas, seam-side down, in prepared baking dish. Bake, uncovered, until tortillas are crisp and browned, about 20 minutes. Serve each topped with 2 tablespoons of salsa and 1 tablespoon of sour cream.