Apple Chicken Sausage and Veggie Skillet
We do this easy and healthy recipe whenever we want a healthy home-cooked meal after a long day!
This literally takes 15 minutes – prep and all!!
Ingredients:
1 – green pepper
Half of a white onion
1 cup of sliced carrots
1 – zucchini
garlic powder
1 – package of Johnsonville Chicken Sausage (any flavor)
Olive Oil (bottom of pan)
Cut up all veggies and put into a skillet with olive oil. Let the veggies cook for a couple of minutes. Then add the cut up sausage. Let the sausage steam/cook for 9-10 minutes.
And that's all! :O)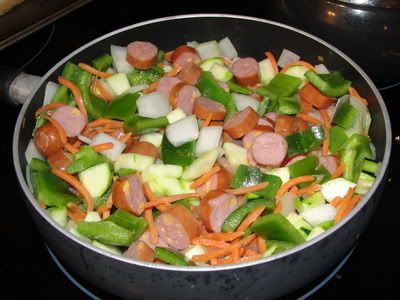 We usually eat a bowl full and then also 1 piece of garlic bread. This meal is filling and so yummy and pretty healthy too!!
Weight Watchers:
For 2 Sausages = 6 points plus
For Garlic Bread = 4 points plus
Veggies = ZERO!!