This weekend was my brother's girlfriend's baby shower that her sister and I hosted together.
The theme that we went with was Monkeys!
The day was great and I have to share some pictures of our hard work!
So let's start with the beginning –
The Invitation!
I decided to contact
Inkberry Cards
again because of the amazing work they did for Jude's first birthday party invitation.
And oh my gosh – Jenn pulled it off again! She created this completely custom baby shower invite just for me!!
What do you think?
If you are in need of some great party invites and supplies, Inkberry Cards is your company – Guess what – Jenn has offered one of my readers their very own custom party package! More on that later in March!! GIVEAWAY!! YAY!!
Okay, back to the shower…
I decided to stick with the traditional blue and pink since they are having one of each. I also thought that incorporating the dots in the decorations made the event more mod!
The Cake!

Kayla – the guest of honor! Looking fantastic at 31 weeks pregnant with twins!
The cake and cake table. If you are in need of a cake in Colorado please contact me! I have the best cake decorator as a good friend! Julie will create something beautiful and Yummy!!
Do you like the colors?
Yummy!
The Centerpieces!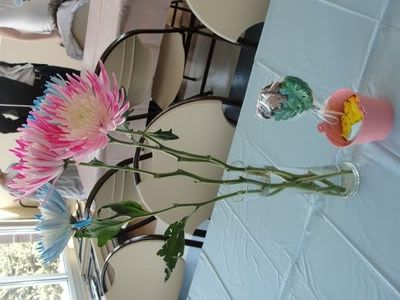 Our centerpieces. We used pink and blue pails filled with Banana Runts! ( you know cuz monkeys eat bananas!!) And in each pail we put a chocolate monkey pop from Mandies Candies! Again, a great company that I have worked with a number of times! Look her up! The monkeys turned out perfect! Along side the pail we added some beautiful pink and blue flowers.
Hello little Monkeys!
Food!
Amber made a great spread of food that everyone loved!
All of Kayla's favorites!
~Mini PB&J's
~Baked Mac and Cheese
~Mini Pigs in the Blankets
~Cheese and Crackers
~Spinach Dip
Overall, the shower went just perfect and as planned!
I love party planning! Jude is next!