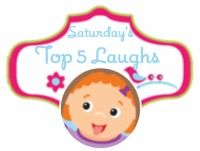 Welcome to Saturday's Top 5 Laughs!
Make sure you link up with The Mommyhood Chronicles too!
5. Jude is teething (not much to laugh about there usually) but on Thursday night he woke up in the middle of the night and actually said "Ouch" and pointed to his mouth. I know it is sad but it is really funny to see him do this! He can communicate with us now! Makes me happy and sad at the same time!
4. Last Friday we had my Winter Staff party. We headed to Dave and Busters for dinner and games. We had a really great time with some of my co-workers. You would have thought we were winning cash and not tickets for silly toys at the "swag bar"! lol One of my co-workers actually hit a jackpot on a game and proceeded to run around the facility screaming and cheering for the win! He won 300 tickets! SWEET!!
3. So most of you know that I know drive a bigger car (Honda Pilot) I am not completely used to it yet – especially parking in crowded lots! Yikes! One day last week I got to work early which meant there were a ton of spots available and no one really around – guess what I did? I BACKED INTO A SPOT!! Perfectly in only 1 try! YAY me!! So I had to show off so I took a picture and sent it to Jeremy – he laughed, not that impressive when there aren't cars even near you! lol Whatever, I still did it!!
2. Hearing Jude with his newly found word – "NO!" He says it all the time now. He always was a YEAH kiddo and now the NO has become his favorite. Most of the time it is cute but there have been times that it isn't so cute! I do love hearing his new words though. Such a growing boy!
1. I believe that my number one laugh this week was the chaos that the weathermen of Colorado produced with their "Storm of the Century" predictions! People made a run on gas, groceries and ATMs! Oh my goodness people – we live in Colorado! What do you expect! The best thing about this though – we got a SNOW DAY! So thank you weathermen you gave us a free day off of work!