As I write this review I am drinking my Raspberry Sparkling Water made by the SodaStream! It is delicious and by using the SodaStream I have increased my water intake daily!!
I was so excited when we got this package in the mail. We opened it immediately and got started on using the SodaStream.
To be honest when I first read about this product I thought it was another silly gadget that would become a space taker on our countertop but I assure you that it is not just a gadget! It is something that we will use for years to come.
It is AMAZING and so easy to use!!
SodaStream in a home soda maker. You just turn your tap water into sparkling water or add in the extra flavor, to make actual soda.
You all know that I am on Weight Watches right now but even on a "diet" soda and flavored water can be a part of your daily drinks! I have been able to enjoy flavored sparkling water and diet soda and they all taste great! ZERO calories great!!
I am so impressed with the SodaStream and here is my steps to making the soda!
How to use:
Fill the reusable carbonating bottle with tap water – once you do this you will want to put it in the refrigerator until chilled.
Press the button down about 5 times until you hear a "buzz" to add the fizz to the water.
Once you do this you have your sparkling water.
Now if you want to create a soda or a flavor to your water you have a couple more steps.
Follow the above steps and add your favorite soda or flavoring mix.
Follow the measuring steps on the bottle of syrup.
Shake the bottle a few times.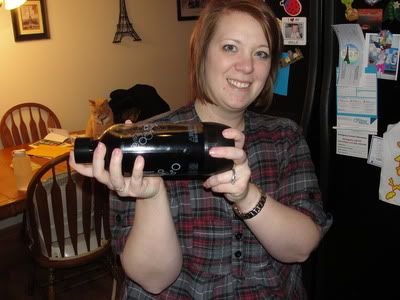 The finished product! Yum! Diet Cola! My favorite!
This literally takes 2 minutes to make a whole liter of soda or sparkling water! Easy and fast!
They have regular and diet flavors included in their 30 different selections.
Also just an FYI – the soda contains less calories than the regular sodas.
Regular Coke usually has 100 calories/27 grams per 8 oz., while Sodastream Coke contains 34 calories/ 9 grams of sugar per 8 oz. Sodastream regular soda contains no high fructose corn syrup and the diet soda is made with splenda instead of aspartame!!
One Sodastream carbonator makes 60-110 liters, equivalent to 310 aluminum cans.
HELLO Earth Friendly!!
You can learn more about Sodastream by visiting here:
Sodastream.
Many fine retail stores sell the Sodastream including Bed, Bath, and Beyond, Bloomingdale's, Costco, JC Penny,
Kohls
to name a small few.
Review Disclaimer: I received a product(s) free of charge for the purpose of this review. No other compensation was given. I was not asked to write a positive review. The opinions stated in this review are my own and may differ from yours.