Yesterday I took Jude to his very first dentist appointment! YAY!
He was such a good boy and did so well.
Honestly, the appointment was only 10 minutes long! LOL But I am so proud of him!
I was so pleased with the dentist too.
We decided to take him to the dentist that Jeremy and I have been comfortable with. They were amazing!! They took the time to hold his hand and get to know him and then started looking at his teeth.
He didn't let them polish his teeth but they were able to get in there with a brush and count his teeth and check everything out. He passed! Great teeth!
The only thing that they told us to start doing is flossing his teeth. I have to tell ya, I laughed a little. I just don't think he will let us! I will be trying it – they gave us some kid size floss picks so we will see. Basically we got the no juice talk, which we do not do anyway, and the brushing everyday talk – which Jude loves to do so right now we are doing great! Just flossing…
Any tips?
He was very excited to be able to pick out a new toothbrush, he chose a dinosaur one! And then on our way out he got to choose a prize for being so big! He picked out a baseball bean bag and played with it all day long! :O)
We have another appointment in 6 months, I am hoping that if we make the dentist a fun place and a normal place that he will not end up like me and need medication to get through a cleaning! ;o)
That is my hope!!
Time for some fun pictures!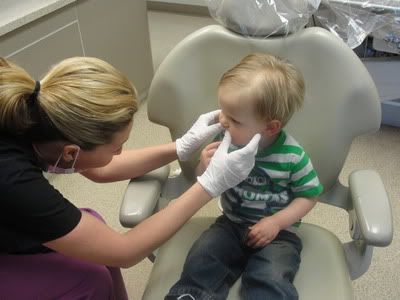 Let her see those teeth Jude!
Talking to the dentist. Such a little man!
Okay, I am done! Lets get out of here mommy!
Alright, who has some toddler dentist stories?