Well hello March!
Yup it is that time again. Time to introduce you to my lovely sponsors. Make sure you give them love and tell them that Building Our Story sent you!
We at Building Our Story cannot wait to see what is in store for us this coming year and we hope to work with all of you at some point so if you are interested please email me at
zippinviolet01@gmail.com
.
With our further ado our Sponsors!
the eccentric mind

Jeremy's art shoppe! Currently up and running! Check him out!
Shaun is the mommy to Peanut – a blog all about life for this family of three.
Shaun is excited about a new journey that is taking her all the way to NYC for Blogher12! Lucky lady!
Visit this great family friendly blog for some great parenting tips, product reviews and some adorable pictures of Peanut – one sweet little girl!

Hi, I'm Brittany! I am mommy to a wonderful little boy named Torin, and wife to Jonathan. Our life can get pretty crazy sometimes, and my goal is to share that with all of you. I started this blog while my husband was in Basic Training for the Air Force, as a way to document our lives for him until he got back. Now I love getting on here every day and connecting with other people! Come visit my 'jungle", I would love to have you!
Live Free Momma

A new family friendly blog that you must check out. Jess is all about homeschooling and DIY crafts for adults and kiddos! That typical Mommy Blog with all the right tips, pictures and craft ideas! Make sure that you visit Jess and help spread the word about her blog!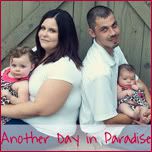 My name is Nykki, and I'm a massage therapist but currently a stay at home mommy! I am happily married to my husband, Kevin, and we recently welcomed our first baby girl, Olivia, on January 11, 2011. Expecting our second bundle on May 25, 2012!
Returning Sponsors that we LOVE!