Looking for a better soda for your family? I found the perfect one!!
Oogave let me try a sample pack of their sodas. I was pleased with them all. I have a thing about soda – I love it! I can drink it much easier than water but as you know I am trying really hard to strive for health which pretty much takes out POP!
Well now that I know and LOVE Oogave soda I know I am making a better choice for my health.
Oogave is another great Colorado product – YAY Colorado!! I love supporting our neighbors.
I think my favorite flavor has to be the watermelon cream but really any of the flavors are great. Jeremy enjoyed the root beer flavor as well.
About Oogave:
The idea for Oogavé organic sodas first came to Esteban Anson while running his small natural foods restaurant in downtown Denver. As a fanatic of quality, and a devotee of delicious and wholesome handcrafted foods, Esteban used only the best natural ingredients in his restaurant. From the fresh baked breads to the home-made salad dressings, nothing artificial or commercial made it past Esteban. And that's what his customers kept coming back for.
But when it came time to order sodas, Esteban and his customers were still frustrated by the lack of quality and choice in the world of soft drinks. Wanting to offer a variety of fountain sodas, Esteban was dismayed at the treatment and options available through the traditional "evil empire" soda companies. He didn't want to sign his life away in iron-handed contracts, and he especially didn't want to serve his customers anything made with processed sugar and High Fructose Corn Syrup.
What to do? Esteban thought, "Why not make my own organic soda that is all natural?"
Esteban was already a huge fan of agave nectar, using it in much of his baking and as a sugar substitute in many sauces and recipes. He loved using it in recipes because it was delicious, all natural, easy-to-mix, and was much healthier than the traditional commercial alternatives. Esteban thought this wonder nectar just might make a delicious and healthier soda. And he was right!
After many months of intense research, wild mixology, and copious tastings with friends and family, Esteban was sure he had found a better way to make soda. His inspired new agave creations were obviously healthier, but now he could mix a variety of fun and delicious flavors that his customers could get excited about. Esteban knew he was onto something, and on April 13th, 2005 he began serving Oogavé sodas in his restaurant.
With the help of two close friends and the Small Business Administration, Esteban built his own little soda plant right here in Denver, Colorado. The operation was certified Kosher and Organic by Scroll K and the Colorado Department of Agriculture. In January of 2009, the ribbon was cut and the first delicious bottles of Oogavé organic soda rolled off the line heading for natural grocery stores and restaurants around Colorado.
Today, Oogavé is available in natural grocery stores and thoughtful restaurants in 47 states.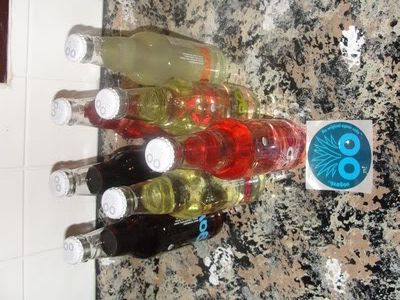 Available flavors:
Cola, Root Beer, Mandarin Key-Lime, Ginger Ale, Watermelon Cream, Grapefruit, Vanilla Cream, and Strawberry Rhubarb.
I am very impressed that Oogave is a certified organic soda that uses ONLY agave nectar as a sweetener. No high fructose corn syrup, cane sugar or chemical sweeteners added. They are gluten-free, vegan, low glycemic, caffeine free and each bottle contains only 100 calories. Which is very important to me and several other people I know.
Where to purchase:
You are able to purchase from the
Oogave website
. You are also able to go here and find what retailers you can find Oogave at to purchase.
Oogave has been kind enough to let one of my lucky readers try some Oogave Soda of their own!
You could win one case (12 bottles) of soda which can be a mixed case or one flavor – Winners choice!!
Thank you Oogave!!
Fill out Rafflecopter form below in order to be entered in the contest.
Disclaimer: Oogave sent me these sodas free of charge. All opinions are my own and may differ from others.


/*{literal}{/literal}*/
a Rafflecopter giveaway
<a href="http://rafl.es/enable-js">You need javascript enabled to see this giveaway</a>.