I have been a MAJOR slacker on blogging and updating, especially about Baby 2.0! So sorry!!
So here are some updates:
15 week bump update!
Feeling fat more than pregnant – I HATE THIS STAGE!!!
16 week bump update!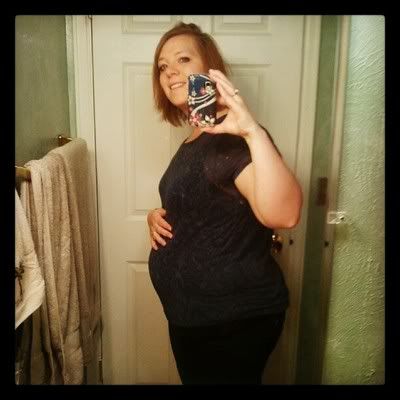 Feeling like I am getting bigger but really want to start seeing that BUMP!!
No 17 week photo! :O(
I need to get better at doing it every Saturday morning.
So as of today I am 17 weeks and 2 days pregnant. Time for my first survey for this pregnancy.
How far along?
17 weeks and 2 days
Weight gain/loss:
I have lost 2 pounds as of today. No gain yet.
Feeling:
NERVOUS! This baby has already been a handful. A scary handful!! 2 weeks ago today I started bleeding HEAVY. Since then I have been spotting and I hate it. I went to the ER last Wednesday for a lot of spotting and everything checked out fine. For the last 3 days I have been spotting again. Old blood this time which is better than that bright red stuff but damn!! Come on body – chill out!! The ER doctor said the fact is that some women spot in pregnancy. I hope it stops. If you have a spotting story please let me know! I really need some reassurance. On top of the bleeding/spotting I have horrible heartburn daily and "morning sickness" most days. I never threw up with Jude but this time I have thrown up a number of times.
Maternity clothes?
Shirts – make me feel better. So far I am able to wear most of my normal sized pants.
Sleep:
Sleep is fine – getting used to not sleeping on my tummy though, that is hard!
Food cravings:
CHOCOLATE MILK! Again!! Funny!
Movement?
Nope – nothing yet. Hoping soon so that I feel better about all this bleeding and spotting.
What I miss?
A carefree pregnancy – last time was easier!! I just want everything to be okay!!
Best moment this week:
Seeing the baby on the Ultrasound at the ER. Mother's day with my boys! Jude picked out some flowers and a balloon for me! He was proud!! 😉
What I'm looking forward to:
Honestly – I just want the spotting to stop.
Next Appointment:
OB appointment – May 21st – "BIG" Ultrasound June 1st!!
Milestones:
Hitting 17 weeks – I really cannot believe I am already this far along!!
Gender:
Jeremy thinks boy. I am leaning towards girl because how HIGH maintenance this baby is already!! 😉 Heart rate = 169 at 12 weeks, 148 at 16 weeks. We find out on June 1st! Thoughts??