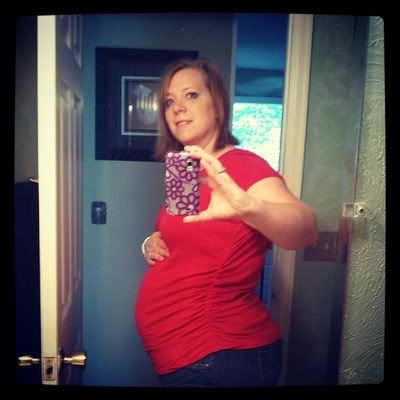 How far along?
20 weeks and 3 days
Weight gain/loss:
Down 1 pound still. I have my appetite back though so I am sure that will change soon! ;o)
Feeling:
Feeling pretty good right now. I am grateful that my doctors are letting me visit them every week just so I feel better about this little lady growing in my tummy.
Maternity clothes?
Oh yes! Went shopping at Motherhood Maternity last weekend and stocked up. I love my new shirts and capri's! Makes me feel so much better feeling stylish!
Sleep:
Pretty good except for the horrible heartburn that wakes me up. It sucks. The chocolate milk helps but sometimes it gets so bad that I end up having to throw up. YUCK!
Food cravings:
CHOCOLATE MILK! Again!! Funny! This is the only thing that helps my horrible HEARTBURN!! I drink it all the time.
Movement?
Some – I get little nudges every once in a while. I hope I start feeling her more and more!!
What I miss?
Being able to eat pizza and not end up with heartburn from HELL!! Lol
Best moment this week:
Rockies Game with Jude, Jeremy and our friends Lauren and Jared. So much fun! Jude loved cheering on the Rockies!!
What I'm looking forward to:
Our June 15th appointment to get more answers from the high risk doctor.
Next Appointment:
Going every week – I have an appointment this morning. Then one on June 12th and then the big one on June 15th.
Milestones:
Half Baked!! So happy that we made it this far. Huge Milestone!!
Gender:
GIRL!!!!