Hard to believe that we have a 2 year old now. On Monday June 25th our "little" turtle turned 2 years old!! We had a great day with our little man. Time for a picture overload! Enjoy!! ;o)
We decided that we wanted to take Jude to the "big" zoo in Colorado for his birthday surprise. This zoo is in Colorado Springs, Colorado and happened to be REALLY close to the horrible Waldo Canyon Wildfire but we were lucky enough to be able to still visit the zoo. It was the perfect day for a zoo trip – well besides it being 100 degrees out but yeah perfect!
We started his birthday by letting him be front facing in the car all the way to the Big Zoo! He was really excited to be able to see outside in front of him. He kept saying – "weee"! LOL ADORABLE!!
Here is our BIG 2 year old all ready for the drive to the Big Zoo! So proud! Once we got to Colorado Springs, we stopped for breakfast at Burger King. Our birthday boy wore his crown proudly and was really excited to almost be at the zoo!!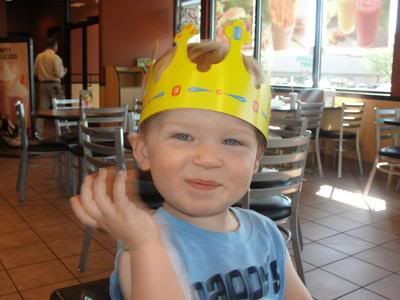 So silly!!
And now for our zoo trip! This zoo was amazing – this was mine and Jeremy's first visit as well. I know we will be going back soon!!
Feeding the Giraffes with Daddy. Purple tongues!!
Oh no he got you Jude!!
Riding an ant with my Daddy! I love these boys!!
Big Bear!!
And at the end of our day we went to the gift shop and Jude got to pick out one stuffed animal. We were prepared for a bear or a giraffe but this big boy wanted that Alligator! LOL He had that gator on his lap the whole way home, even when he was sleeping! That is one special Alligator!
After the zoo we had some family over for Jude's cake and presents. Spoiled much?!?! :O)
Happy Birthday JUDE!! He thought it was the greatest thing to hear us all sing to him. That smile never left his face! And he was VERY excited for cake! YUM!!!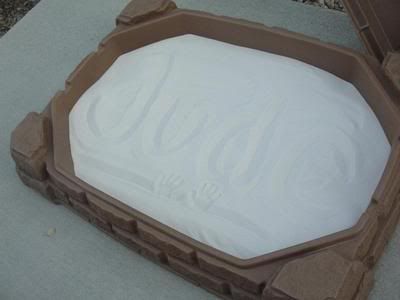 Mommy and Daddy's gift to Jude. A sandbox! I wrote his name in the sand and when we opened it he put both of his hands right in – look at those handprints!! Perfect! He loves his sandbox – I recommend a sandbox for every 2 year old!
Presents!!!
He loves the trucks!!
So 2 years have come and gone and it has been a blast. Thank you for being the best Turtle anyone could have asked for Jude. Your mommy and daddy adore you and love you so much! Happy Birthday!!!