2!!!
We celebrated Jude's 2nd birthday last Saturday and we had a blast with the theme:
CHOO CHOO I'M 2!!
This kid loves trains right now so this was perfect for him!! We had an amazing day in the HOT sun but the kids didn't care! We had 3 kiddie pools out those kids played for over 2 hours in the pools! We are so blessed with amazing friends and family. And now PICTURE TIME!!!
Check out this banner from
Sweet Stella's
. We had the banner from last year (Turtle Party) but she created Train embellishments for the banner and we transformed it into a Choo Choo Banner! So creative and we got a TON of compliments!
Make sure you check her out!
Our Birthday Boy!! Train hat, train shirt and train shorts!! Adorable!!! He didn't stay in this outfit for long though because all his friends wanted to get into the pools right away! Lol Oh well. Got a picture so that is what counts!
Time for Cake!! The amazing cake was created by the same person who created his turtle cake and also the cake in his "real" birthday pictures. Julie does amazing work and we will be calling her for every cake we EVER need!!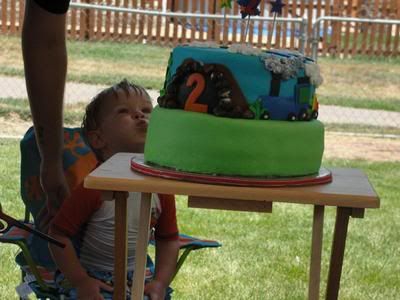 He really wanted to sit in his new chair for cake so when he had to blow out candles it was the cutest thing ever!! Happy Birthday Jude!!
Presents!!!! So many presents! We are going to have to stop having parties because we cannot walk away with this many toys every year! Seriously – Jude is loved!
Boston Red Sox's Shirt!!!!!! Daddy was happy!
Thomas is the best!
Presents Round Two! With Grrrmama! He got his first fishing pole from Grrrmama and Pa! Cars!! YAY!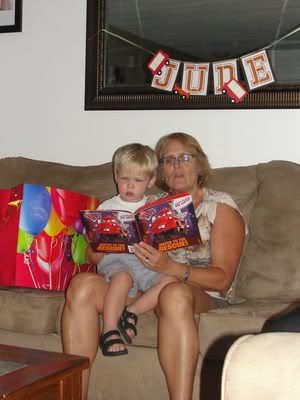 Enjoying one of the MANY presents with Grrrmama.
Pool time! Jude loved playing with the "big boys!" He was pooped after everyone left. Good times!
This party was so much fun and I cannot say it enough – thank you to all of our friends and family for making this day so memorable for us and for JUDE!