Friday Confessional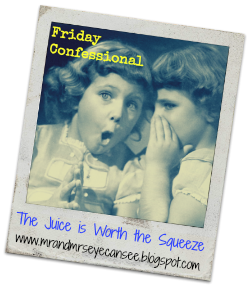 I love my child more than I can express BUT I also love coming to work and having some me time. Yes…I know that sounds awful but it's true. I am a working mom and proud of it!
Sometimes I take it personal when people do not read my blog posts. Silly I know.
I could drink a Pumpkin Spice Latte every day – maybe two.
I am really excited for maternity leave…not just because we get to meet our daughter but because I won't have to step foot into my work place for 6 weeks! Praise the Lord!!
I will be using my maternity leave to look for a new job…I am nervous as hell but need a change.
I have a hard time disciplining Jude because he usually says something after he is "bad" to make me laugh. Ooops!
I have no desire to potty train Jude, diapers seem easier right now.
I spend way too much money on my kid's clothes. I have issues with what my kid's wear! Lol
I had brownies and chocolate milk for dinner last night.
Happy Friday y'all!
Make sure you link up your confessions!