Wednesday on the WW: Week 2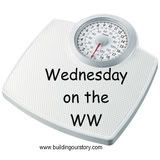 This blog hop is all about Weight Watchers.
Let's help each other on this journey by linking up recipes, successes, tips, photos and WW stories! Rules: Well the rules are easy. Just link! Link your blog posts that are all about Weight Watchers. Easy as pie! There are other ways to follow blogs such as Google+, Networked Blogs, facebook and various other options. I want everyone to link up! Grab the "Wednesday on the WW" button and put it in your blog post! I cannot wait to read all of your stories!!
My 2nd week is in the books – and I am happy with the results.
Challenges:
Let me first talk about what challenges I had this week. You will hear me say this a lot but it really is the one issue that I just struggle with – STRESS. When I am stressed I like to snack, especially on chocolate. This week was stressful. Jeremy is still healing and struggling which makes me stressed.
On top of that we had my annual work party on Friday. That equals food and drinks! I indulged in the Mexican Buffet and had 2 glasses of wine and to top it off a shot! lol INDULGED!! It was yummy though!
Weight Update:
Even with those challenges I stepped off the scale yesterday pleased…
-2 pounds!
That is a total of -5.6 pounds in 2 weeks! Guess what that means…I got a Star Sticker for my 5 pounds lost!! WOOT! I love those stickers!!
Food for Thought:
One day last week Jeremy and I decided to hit up Applebee's for dinner with Jude and Teagan. We had a gift card so it was a no brainer but then when I saw the menu I remembered why Applebee's is the best for us WW users!
Creamy Parmesan Chicken
Points Plus = 12
This dish was so yummy and filling. It usually comes with spinach but I am not a fan of that veggie so I asked for steamed broccoli instead.
ActiveLink:
Today is my last day in my assessment period with my ActiveLink – I am anxious to see my results and goals and to begin the REAL tracking!
I hope you link up and share what your WW week was full of.
Make sure to GRAB our button!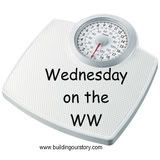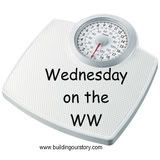 Link up Below:
document.write('