Week 5 on the program!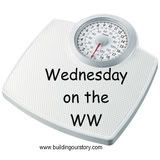 This blog hop is all about Weight Watchers.
Let's help each other on this journey by linking up recipes, successes, tips, photos and WW stories! Rules: Well the rules are easy. Just link! Link your blog posts that are all about Weight Watchers. Easy as pie! There are other ways to follow blogs such as Google+, Networked Blogs, facebook and various other options. I want everyone to link up! Grab the "Wednesday on the WW" button and put it in your blog post! I cannot wait to read all of your stories!!
My Week 5 in Review


I decided that I had to stay on track this week! I HAD to track! And I did and guess what??
LOST 3 pounds!!!!!!!
I know this program works but I really know it works when I WORK THE PROGRAM! Weeks like this make me understand why it is so important to track everything that I eat and drink.
Running total = 7.6 pounds GONE!
Food:
I was good this week. We prepared a couple meals at home and it was fun. Now I remember that cooking is fun sometimes!
One recipe that we decided to dive into again was the Pie Style Spanakopita that I wrote about last year. This recipe is easy to follow and pretty good. Jeremy isn't a fan but I do really like it for left overs – seems creamer the second round!
We also tried a recipe from another Weight Watchers blog – Chicken Cordon Bleu. YUM! I will be sharing this recipe soon as well. Credits will be given I promise! Here is a picture of the finished product.
I also tried something new this week. Have you heard of PB2? Are you a Peanut Butter lover? I am – but it is soooo high in points! Some days I believe it is worth it, others not so much. I decided to try this product.
It was worth it. Seriously. Now I will be honest, I can tell it isn't REAL peanut butter but it hits the spot and for 2 TBSP it is ONLY 1PP!!! That right there makes me smile!
Last night I had a PB2 Bagel Thin sandwich for dinner. 4 points! BOOM!!
ActiveLink:
Well…I like this thing but I hate how INACTIVE I am. :O( Something to work on. I do like seeing the points add up though. Right now I am only getting about 5 Activity Points a week from my normal lifestyle. Like I said, something to really work on.
Goal for the Week:
Trying at least 1 new recipe! Would love to read your favorites!!
Tracking EVERYTHING!

Grab Our Button: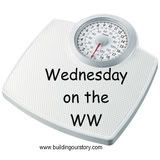 Good luck this week!
Link Below:
document.write('