Week 6 on the program!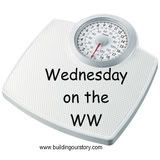 This blog hop is all about Weight Watchers.
Let's help each other on this journey by linking up recipes, successes, tips, photos and WW stories! Rules: Well the rules are easy. Just link! Link your blog posts that are all about Weight Watchers. Easy as pie! There are other ways to follow blogs such as Google+, Networked Blogs, facebook and various other options. I want everyone to link up! Grab the "Wednesday on the WW" button and put it in your blog post! I cannot wait to read all of your stories!!
My Week 6 in Review
This was another week that I really focused on tracking. I feel like I did really well tracking except for 1 day – Sunday which was a day that we celebrated my niece's birthday. Over all I am happy with my loss but wished I would have lost a little bit more!
For this week I lost
-0.6 pounds!!
That puts me at a -8.4 loss in 6 weeks. Not too shabby. MAYBE next week I will hit 10 pounds???
I hope so.
Food:
Food! Guess what we are doing – Meal Planning like crazy people!
BOOM!!
I have all of March planned for dinner at HOME! This is a huge step for us because we are so guilty of spending way too much money eating out. Time to watch the bills, use the oven and get healthy.
I have talked about my goal of trying a new recipe every month before and I am sticking to it but I am really hoping it is more like a new recipe every week. I know we can do it with the planning we have done so far. I will be sharing a recipe of a dinner we had over the weekend that was a Weight Watcher, hubby and Toddler friendly meal on the blog on Friday. Yummy!
Another thing I made this weekend was some Banana Bread Muffins. I decided it would be great to use those VERY ripe bananas on my countertop and create something that I can freeze and use whenever I need a quick breakfast or snack. I used a Weight Watcher's recipe and they turned out amazing!
The best part…each muffin is 3 points…easy to track and easy to eat!! ;o)
Recipe:
Banana Bread Muffins
18 muffins
Prep Time: 15 minutes Bake Time: 22-25 minutes
Ingredients:
3 sprays of cooking spray
5 large very ripe bananas
1 cup whole wheat flour
1 cup white all purpose flour
2 tsp baking powder
1 tsp baking soda
½ tsp sea salt
5 tsp unsalted butter – room temp
½ cup light brown sugar
1 large egg
¼ cup fat free milk
1 TBSP cinnamon
Instructions:


Preheat oven to 350 degrees
Peel and mash 3 bananas. Peel and cut 2 bananas into small chucks. Set all bananas aside.
In a large bowl, sift together both types of flour, baking powder, baking soda and salt. Set aside.
In another large bowl, using an electric mixer, combine the butter and sugar until light and fluffy. Add egg and beat into mix.
Alternating in batches, add mashed bananas, flour mixture and milk to bowl with butter/sugar mixture. Combine but do not over beat. Fold in banana chunks and add cinnamon. You can add walnuts for extra points.
Put batter into muffin tins – should make 18 muffins.
Bake for 22-25 minutes at 350 degrees. Cool and eat or Freeze for later.
This recipe is easy and affordable. I will be making these again for those easy breakfast ideas! And Jude even likes them!
Goal for the Week:
Tracking is my goal this week but also to ride the bike here at home 1 time! I mean come on…one time! I should be able to handle that right??
Grab Our Button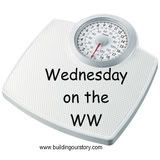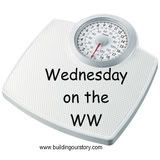 Good Luck this week!
Link up below!
document.write('