I'm Back and I am recommitted to me, to my family and to you!
This blog hop is all about Weight Watchers.
Let's help each other on this journey by linking up recipes, successes, tips, photos and WW stories! Rules: Well the rules are easy. Just link! Link your blog posts that are all about Weight Watchers. Easy as pie! There are other ways to follow blogs such as Google+, Networked Blogs, facebook and various other options. I want everyone to link up! Grab the "Wednesday on the WW" button and put it in your blog post! I cannot wait to read all of your stories!!
A long over due update!
I told you my pants were getting tight a week ago. I went to my meeting that day (Last Tuesday) and saw the damage of stress, no motivation, vacation and putting down a pet. I gained +5.2 pounds in April!! Wow! Amazing how fast those pounds creep back. No good!
So this past week I was careful – I tracked most days and knew the days I wasn't making good choices. I walked back into my meeting last night and thankfully I was back on the "losing train"!!
Last week I lost -1.6 of those 5.2 pounds.
Not bad. I am determined to back on track and stay on track. Summer is here and I do not want to be that FAT mom again. I want to be that healthy mom that can do things with her kiddos and not feel gross or tired.
So here I am – committing to you all again! My readers and my support team!!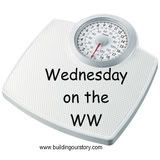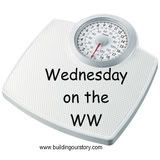 I would love to see how you have been doing for the past month too!
Link up!!