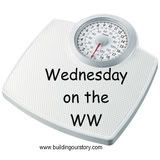 This blog hop is all about Weight Watchers.
Let's help each other on this journey by linking up recipes, successes, tips, photos and WW stories! Rules: Well the rules are easy. Just link! Link your blog posts that are all about Weight Watchers. Easy as pie! There are other ways to follow blogs such as Google+, Networked Blogs, facebook and various other options. I want everyone to link up! Grab the "Wednesday on the WW" button and put it in your blog post! I cannot wait to read all of your stories!!
HATE
Yes, hate. I hate when I get like this. I hate myself, I hate what I look like, I hate how my clothes fit, I hate that some days I cannot control what I eat, I hate that my body is tired and sore all the time, I HATE the weight loss battle.
That is where I am right now. I am failing at my weight loss battle and I am not proud. I have said for months now that I am recommitted to you, me and my family but I am failing. I have to change and I really do want to but something (my brain) keeps knocking me down.
Why do I do this to myself? It is an addiction. An addiction that no one really likes to admit they have. I am addicted to eating food – bad food.
I want to say that I have turned a corner and I am committed again but I cannot say that. I can tell you that I did walk into my Weight Watchers meeting last night knowing I would fail again. But I did it..I walked in. That is progress.
Weight Update:
I gained 2.4 pounds.
That puts me at a total of 3.4 lost. That isn't enough. I need to be better.
Goal for this week:
TRACK and work out! I really need to track every little thing that I eat. When I do that, I succeed!! That is when Weight Watchers works for me!
Working out – I just need to do it! Jump on the exercise bike for 20 minutes after the kiddos are in bed instead of sitting on my butt and watching TV! OR go for a walk with the family after dinner! Or hell – do both!! LOL!
What are your goals? How are you doing on your weight loss journey?
Link up:
document.write('