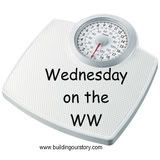 I have failed my promise to myself and to my family. I realize I constantly do this. If you have read my blog for any amount of time you know that for YEARS I have struggled to stay committed to loosing weight and getting healthy. I always say – THIS TIME I WILL DO IT! Always. So I am not going to say that again. I know what is healthy, I know how to do it, I know how to lose weight – but damn it I just have to do it!
So here we are. In my books I started over last night. That is the only way I can look at it. The last time I talked Weight Watchers I had just receieved my
16 week charm
. You would think that would have motivated me. Yeah not so much. So here we are again. Starting over. I have a new weight booklet and I am going to think of it as a clean start.
I beg for you to continue to help me with motivation, recipes, tips, success stories and cheers!! If losing weight and being healthy we wouldn't be such a fat country! I keep reminding myself that it isn't JUST me in the cycle.
Weight loss/gain:
Last night was my NEW start. I have my starting weight and I am working from that number I saw on the scale last night. Not horrible but not happy with it! Today is a new day!!
Goal for this week:
TRACKING! Even while we are at the cabin this weekend!!!
C25K Update:
I
tried and loved
it! This too was set aside. This I do blame on time, I have tried to find the right way to incorperate the running int our family schedule but I have not succeeded. I loved doing this program so I really hope that one day I can stick with it. Our family life and work life is busy. I dont know how else to explain it. The problem truely is deciding what to do with that 2 hours of daylight after work – run or spend time with my family? Run or prepare healthy dinners and lunches. Run or have playdate with friends. Run or read a book. You get the point.
What are you doing differently this week?