If you live anywhere near Colorado you probably know about the
National Western Stock Show
and Rodeo. It is a tradition here in Colorado and this tradition brings crowds from all over the country. 2014 marks the 108th year of the 16 day show. This event is for every age, gender, race, and interest. This is something that I grew up doing with my family but especially my Aunt Becky. This simple yet meaningful family tradition is continuing. Last weekend we took a trip with my Aunt to the show and the Pro Rodeo. Jude was so excited. He is at the perfect age to enjoy both the stock show and the Rodeo.
When we first got to the show we did a lot of walking around to see all of the stock show animals. I grew up seeing cows on my grandpas farm but these show cows are something else. They are beautiful creatures and you can see the dedication that these folks put into making sure their animals are well kept and happy.
We had to stop and take silly cut out photos of course! Jude was ready to sit for awhile after all that walking – GASP!! Jude wanted to sit? Talk about perfect timing. So after we looked at horses, cows and sheep we headed to the Pro Rodeo.
This was Jude's first Rodeo and he wasn't real sure what he was waiting for but he was really excited! Especially when the Rodeo opened with fireworks! That made him jump out of his seat but he was ready!!
This was my view for the 2 hour Rodeo. He was sitting on the edge of his seat just taking it all in. The best part about this Rodeo is that there really isn't a bad seat in the arena! We were lucky enough to be right behind the bucking shoots which was perfect! Jude was so cute asking Aunt Becky all about each event. I think his favorite was when the cows were being roped and tied. He thought that was neat.
Bad picture but these beauties were the talk of the show. Amazing horses that are giant when you see them up close.
Jude got to hang out with the Rodeo Clown after the show. He was throwing Jude up in the air and Jude thought that was the coolest thing. It was something that Jude talked about for days after. Such a great experience. Also, check out Jude's cowboy boots! So cute!!!
This is a face of joy. This picture made the crowds and the allergy attach worth every second!! Seriously, this is something that I know Jude will look forward too every year. I know that he and Aunt Becky will have a special bond over this and maybe in a couple years Teagan can too. We aren't too country but bring us to the National Western Stock Show and we play Colorado Country pretty well.
After the Rodeo we had to stop in at the Petting Zoo to make sure the animals were well fed. Jude loves feeding these animals. He thinks it is so funny.
He found a brush, we asked him what he wanted to brush, his response "The Pigs". Well of course the pigs need to be brushed buddy!
We had a great time at the National Western Stock Show and if you are ever in the state during this event you have to stop in. Even if you cannot make on of the Rodeos you have to stop in for the Stock Show, there is something for everyone. This is an icon of the Colorado people.
Anyone else think it is funny that the NWSS President looks like a certain Quarterback???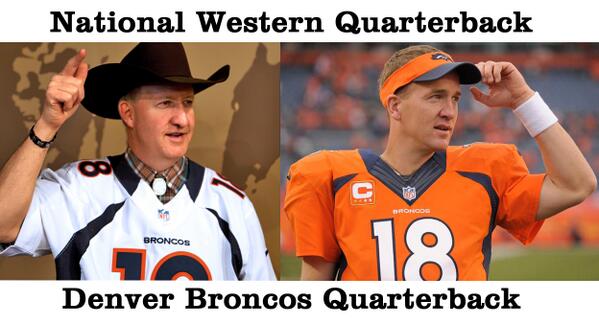 Did any of you locals stop in to visit the animals or see the Rodeo?