This is a sponsored post written by me on behalf of Nationwide Mutual Insurance Company. All opinions are 100% mine.Nationwide provided me with information regarding its blog post.
It can be difficult to dress up your space when you are a tenant in a home or apartment. A lot of us start off in a rental situation before buying a home and even though we are renting, we want our space to be OURS. When I think back to the issues we had when we were renting I wish I had these
7 Ways to Spruce up a Rental Kitchen
tips.
7 Tips for Decorating a Rental Kitchen


Most kitchens in older apartments leave a lot to be dreaded – old cabinets and appliances, scuffed up floors and insufficient cabinet and counter space. A kitchen is a centerpiece of a home or apartment. Lots of time is spent in the kitchen with friends and family so it really is important to spruce it up and let your style show through.
Here are seven ideas for making your rental kitchen more welcoming and useful:
1. Revive your cabinets
Give your cabinets a good clean. love this idea for the home we own as well. When I look at our cabinets I can see that cooking grease – yuck. This is an easy weekend project that would make any kitchen look updated and cleaner.
2. Give your cabinets personality
You don't have to paint your cabinets to give them a facelift. Ask your landlord if you can change the hardware. This will make a huge difference with very little effort.
Always remember to ask your landlord about projects like this before starting. If I was a landlord, I would welcome these small upgrades and as a tenant I cannot think of an easier way to make a kitchen look new.

3. Mask scuffed-up floors
Is the kitchen floor a little roughed up? Get a rug! I have an obsession with rugs. Talk about a great way to get some color and patterns into your space. What colors are perfect for a modern kitchen?
4. Hide your appliances
We got lucky and have new appliances at our rental right now. If you have older appliances, don't worry. Use pictures to cover them. You can easily take magnets and pictures with you to the next kitchen in your future!
5. Add some color
I like the idea of coming up with a color or pattern theme in the kitchen. Adding rugs, towels and even wall hangings to create an inviting and updated space. Currently our kitchen is red and I love it, I totally recommend it for any kitchen!
6. Create extra space
Rentals can sometimes be small but you have to find ways to make your space not cluttered or messy. On top of finding places for your kitchen items I think it is important to purge items you no longer use.
7. Make it personal
Add a personal touch by hanging up décor that will make your rental kitchen feel like your own!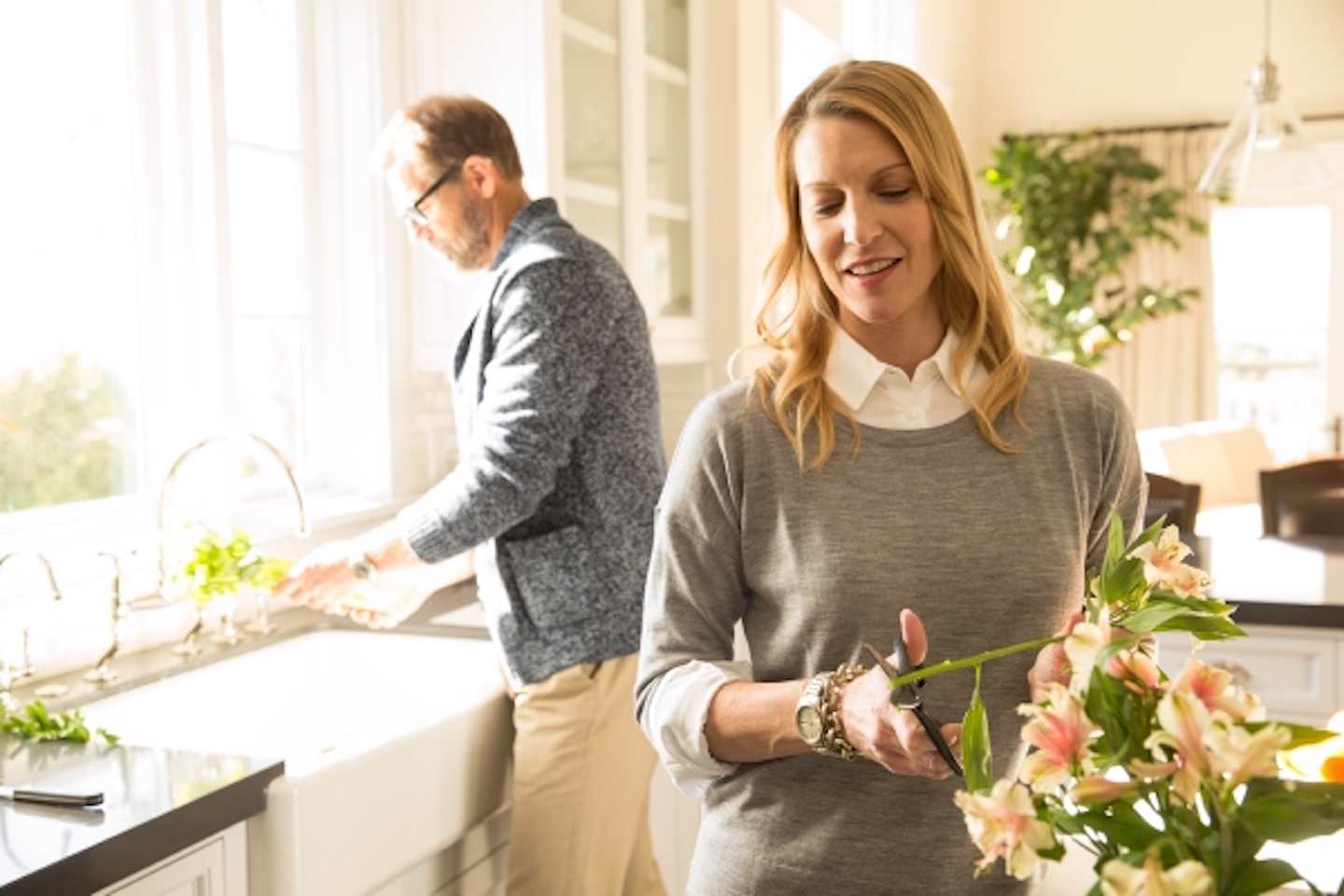 All of these tips are great to make a rental kitchen yours! Once you implement these tips you can invite friends and family to enjoy your kitchen.
Learn more about some simple home updates from Nationwide's blog.
What colors, themes or patterns do you recommend for rental kitchens?