Disclosure: I was provided with a necklace set in return for my honest review. All opinions are my own.
'Tis the season of finding the perfect gift for that special person in your life. Lucky for you, today I am introducing you all to a great local (YAY Colorado!) company that creates beautiful, delicate, and trendy jewelry.
Powder & Jade: Gift Jewelry with a Personal Touch
Who is Powder & Jade?

We've spent the last few years carefully designing jewelry that are perfect to give as a gift. We combine these pieces with the cutest, most thoughtful quotes we can think of/find in order to create gifts that you and whoever you give it to you will truly love. Each piece is handmade in our shop here in Boulder, CO and carefully packaged. We have been relentless about finding the best suppliers in order to source the highest quality materials at a reasonable price. If you have feedback, please let us know – we are always trying to find ways to bring more value to our customers.
Powder & Jade was started in 2013 by husband and wife team Auri and Andrew Penner. Auri had started making jewelry as a hobby while in college, and at the same time Auri and Andrew decided that they wanted to start their own business and work for themselves — they decided to try selling Auri's jewelry creations and Powder & Jade was born. After many, many design changes, they started offering simple, minimalist gift jewelry that people seemed to love.
They have been able to rent a studio space and are now joined by Katie Beglin, who runs the day-to-day operations, and several other amazing employees who help get the handmade jewelry into your hands. Auri currently works on new designs, does photography, and handles business strategy while Andrew starts a shoe company.

When I first looked at
Powder & Jade's esty shop
I could tell that this would not be the last time I would be shopping with them. This jewelry is perfect for someone like me. Beautiful but simplistic and delicate. I don't need flashy or big jewelry, instead, finding something like these beautiful necklaces is the gift for me!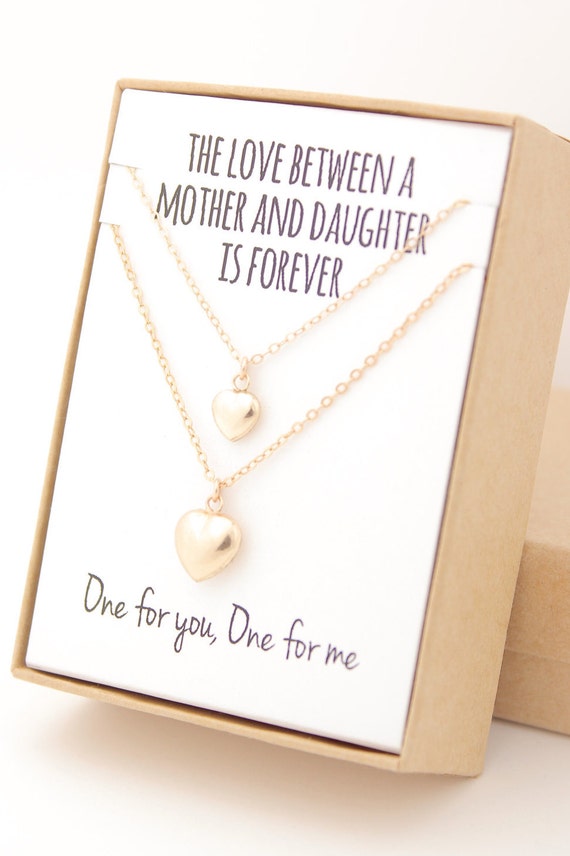 I decided to review this Matching Mother and Daughter Heart Necklaces. I knew that Teagan would love to have a new non-costume jewelry necklace, especially if it matched my necklace.
The quality is very high as well but at a price that will fit in your holiday budget. The tiny delicate gold hearts on our necklaces are gold-filled hollow charms and the chain is 14K gold-filled, not just plated – perfect for sensitive skin.
This jewelry is packaged perfectly for a gift. I loved the mini gift tag and twine tied to our jewelry box. It was so personal and again, simple but lovely.
After seeing how special Teagan felt when I gave her this necklace I am making my list of who else needs a beautiful piece of Powder & Jade's jewelry.
Keep up with Powder & Jade:
If you like Powder & Jade please check out their 3 other jewelry companies:
Lucky for you, Powder & Jade wants one of you to start your Christmas shopping with them this year. Powder & Jade is giving one of my lucky readers a $30 store credit + free shipping. Simply follow the rafflecopter form below. Good luck!!
Rafflecopter Form:
Which piece of jewelry will you purchase if you win?