Disclosure: This shop has been compensated by Collective Bias, Inc. and its advertiser. All opinions are mine alone. #TeaProudly #CollectiveBias



Fall is here, well, fall in Colorado is here! As most of you might know, Colorado is known for its crazy weather. Over the last few years we have felt like we totally missed fall weather and moved into winter weather but this year, fall is here!! Of course, we have days that have a dash of snow but honestly, I love it. Fall has always been my very favorite season. This season has the best weather, food, activities and fashion.
With every new season I feel like I am given the opportunity of a fresh start. A new place to focus on life and with every season I can smell that fresh start, especially fall! One thing I love to do during these cooler months is enjoy a hot cup of tea and some yummy bread before starting my day of work. On those really sunny mornings I love stepping outside for that cup of
Bigelow Tea
. It is a great way to start the day.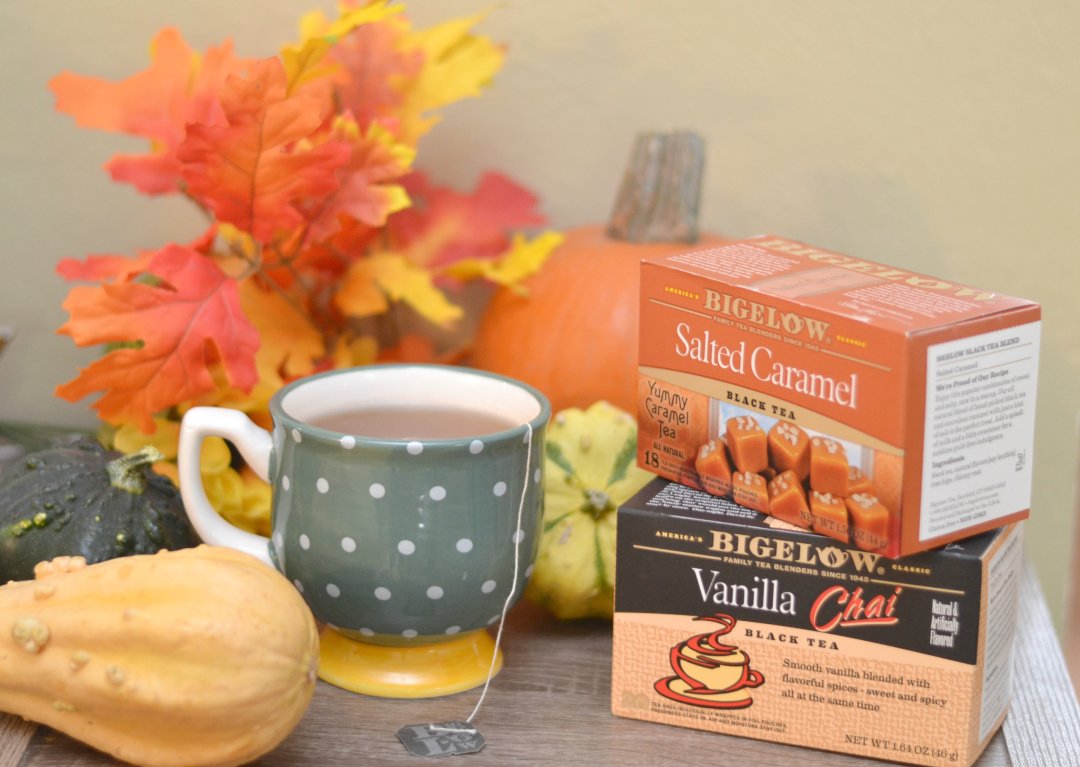 My go to tea has always been Bigelow Tea. When I was working outside of the home in an office I would have to start my day with a hot cup of tea in my fun and seasonal cups. Here's a confession…I love buying mugs – I have way too many! ha! And now that I am at home, I pick from my many mugs and head out to my deck before starting my day. What a treat that is now that I am working from home.
My favorite fall Bigelow Tea flavor is the Vanilla Chai but this year I went outside my normal and picked up the Salted Caramel as well. OH MY GOODNESS! If you are a tea drinker, you must try this one, it is exactly as it is described, "Yummy Caramel Tea"! Hover over the image above to start shopping for your perfect fall cup of tea from Bigelow Tea.
Like I said before, fall is my favorite season because of all of the great food and other things like fashion, activities and the weather. But mostly….it's the food and drink. Now that I have a few moments at home before my day has to start I want to actually sit and enjoy my fall tea and fall bread. Another reason I am so thankful for being able to work at home now. My pace of life has changed for the better, oh and I have time to bake!! YES!
One fall flavor combo I have loved for a long time is Cranberry Orange, I decided to try a new bread recipe to enjoy with my
cup of tea
on the deck this fall. I love that this bread recipe is not only delicious but super easy to make.
Cranberry Orange Bread
Free Printable Recipe
here.
Ingredients:
Craisins – you can also use fresh or frozen cranberries
2/3 cup oil
2 cups sugar
Zest of 1 orange
2 eggs
2 cups orange juice
4 cups flour
2 tsp baking soda
1 1/2 tsp salt
Directions:
1. Preheat oven to 350 degrees and prepare a mini loaf pan with cooking spray.
2. In a large mixing bowl combine flour, baking soda and salt.
3. In a separate bowl mix together oil, 2 cups of sugar and orange zest.
4. Carefully add the oil mixture to the flour mixture and combine well.
5. Add the eggs and orange juice, slowly.
6. Mix until just combined.
7. Fold in craisins/cranberries.
8. Pour batter into the mini loaf pan.
9. Bake at 350 degrees for 45 minutes or until a tooth pick is inserted in the center of the bread and it comes out clean.
10. Let cool before removing from pan. Serve and Enjoy with a nice hot cup of Bigelow
Tea
!!
When I first made this recipe, I was a little worried that the bread would be way to sweet but it turned out perfect. It really is a great breakfast bread to enjoy with a nice hot cup of
tea
.
There is something so cozy and soothing about enjoying a cup of
Bigelow Tea
in the morning, especially with the changing seasons. It warms me up from the inside and after I take that time just to myself to gear up for the day I feel completely rejuvenated.
Bigelow Tea has always been the brand I seek out when purchasing my tea. The company has shown me that they are the tea brand I can rely on. They are a Family company of three generations that pride themselves with freshness, United States manufacturing, quality tea and ingredients. If I am drinking Bigelow Tea I
TEA PROUDLY
!
You can pick up your Bigelow Tea at Walmart in the tea and coffee aisle. You will be amazed at all of the seasonal and traditional tea flavors that Bigelow Tea offers.
How do you enjoy your fall mornings when you have a little time to yourself?