Disclosure: This shop has been compensated by Collective Bias, Inc. and its advertiser. All opinions are mine alone. #BigelowTea #TeaProudly #CollectiveBias
How have you been feeling this Cold and Flu season? Oh man, there have been some rough weeks around here and while rest and medication sometimes soothes that terrible sick feeling my hot tea always does. Unless you have been hanging out under a rock you have seen the crazy amounts of people feeling under the weather this season. So, I decided that while I cannot make everyone feel better, I can create some fun upbeat Get Well Soon cards to hand to my family and friends when I know they need a little pick me up.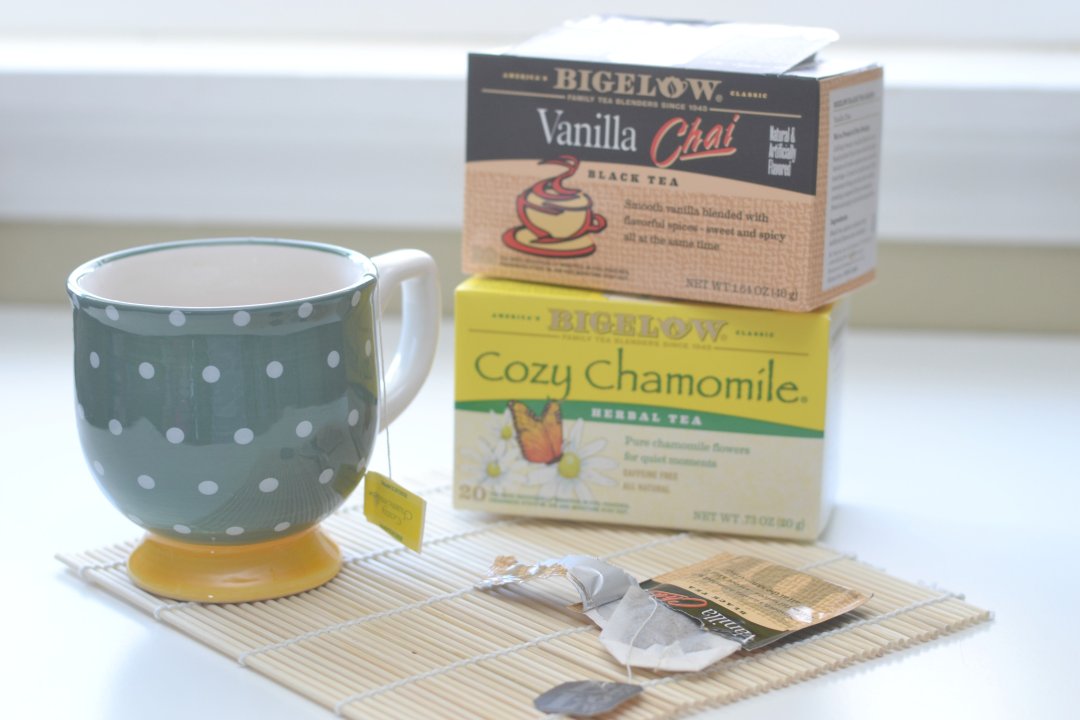 Bigelow Tea
is my favorite hot tea to enjoy any time of the year but during this Cold and Flu Season I really rely on it to help soothe my throat and give me that overall cozy feeling. Make sure you hover over the image above to learn where to buy these delicious Bigelow Teas. Ironically, January is also
Bigelow's "Hot Tea Month"
so I am happy to share my love of hot tea when I am feeling under the weather! And now I am ready to share it with my friends and family too with this fun and simple Get Well Soon Greeting Card.
DIY Get Well Soon Tea Greeting Cards
Materials Needed:
12×12 card stock in different colors
Scissors
Double Sided Tape
Ribbon
Stickers or other embellishments
Bigelow Tea Bags
Directions:
1. Cut each 12×12 piece of card stock in half long ways.
2. Create a tri-fold card with card stock.
3. Cut the right folded piece and create a diagonal design.
4. Using the double sided tape, create a pocket for a tea bag by folding the right size over to the middle fold.
5. Cut a piece of ribbon long enough to wrap around the whole card and secure the ribbon with a small piece of double sided tape on the back of the card.
6. Add stickers and embellishments on the front of the card.
7. Place two
tea bags
into the "pocket" and sign the card.
8. Tie ribbon to keep card closed.
9. Pass Get Well Soon Tea Greeting Cards out to those that might need a little pick me up this Cold and Flu Season.
These turned out so cute and when I handed them out to some friends and teachers they were really excited to receive them. And for those that feel like they are not creative, I promise these cute greeting cards are so easy to make and totally be customized by adding your own stickers and embellishments.
You can find all of the great
Bigelow Tea
flavors in the tea aisle at your local Walmart. Every week that I go grocery shopping I make sure to add some Bigelow Tea to my cart, Cozy Chamomile and Vanilla Chai are my favorite!!
Today you can enter for a chance to win a $475.00 Cozy-Up Prize Pack. Simply fill out the form below. Sweepstakes open now until 2/28/2018! Good luck!
Sweepstakes Form:
This Cold and Flu Season how are you finding ways to spread the wellness to your friends and family?