Disclosure: This shop has been compensated by Collective Bias, Inc. and its advertiser. All opinions are mine alone. #GoldfishGameTime #CollectiveBias
Spring is in the air and we are itching to get out and enjoy the weather. I have usually been that mom that tells my kids to "STOP PLAYING WITH THEIR FOOD" but today I am sharing a really fun activity that my kids love doing in our back yard using some of their favorite snacks found at Walmart, Pepperidge Farm® Goldfish® crackers. This Goldfish® crackers Relay Game For Kids will definitely be a hit with your whole family this springtime.
Goldfish® Crackers
I honestly cannot remember a time that we have not had Goldfish® crackers in our home since having kids. They have been a staple in our home for easy snacks and lunch box additions and frankly they are one of my favorites too. Because we are a family that love our Goldfish® crackers we bought a few of the 30 oz. cartons on rollback for $6.42 at Walmart, in store only.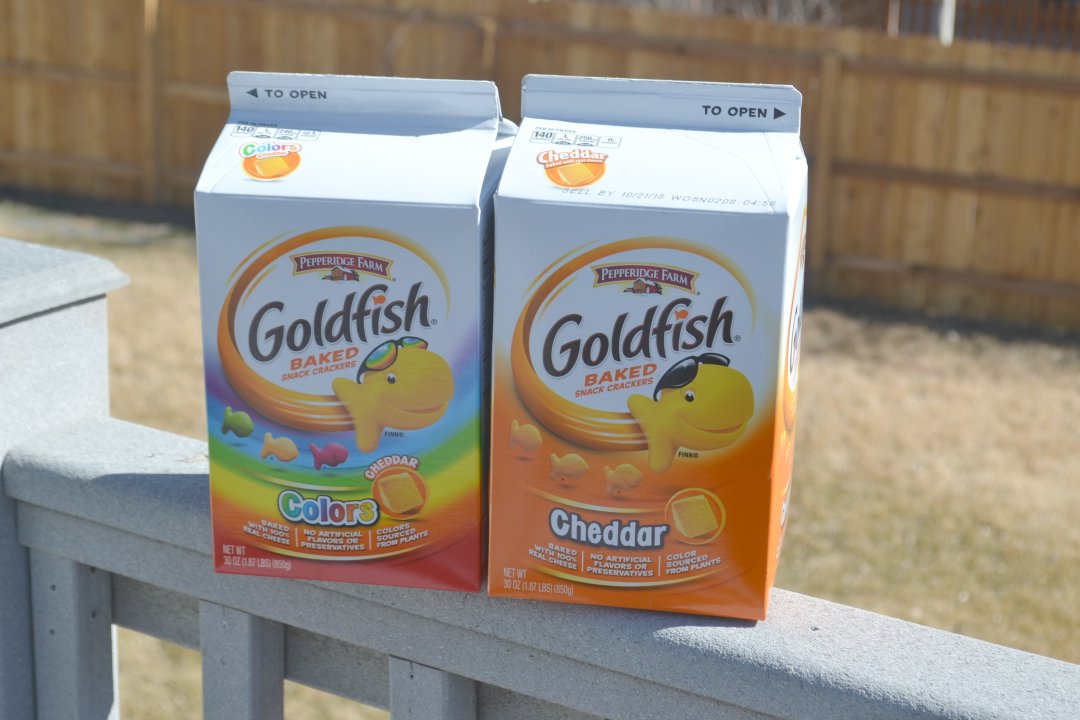 Make sure you click the image above to shop for the 30 oz cartons of Goldfish® crackers online. Our favorites are the Pepperidge Farm® Goldfish® crackers Cheddar and Pepperidge Farm® Goldfish® crackers Colors. We have actually used the colored options for our birthday parties in the past. So fun!
Create A Goldfish® Crackers Relay Game For Kids
Sure, the snow could come back tomorrow but the kids are loving our newly updated backyard during this springtime weather preview we have had lately. We are so happy that we finally built the fence in our backyard, it gives us some extra security and privacy. Plus the kids can be as crazy as they want now. It is becoming a space we know we will spend even more time in during the warmer months.
Okay, let's talk about some activities. This time of the year we are thinking about all things basketball and we are gearing up for the big basketball game but the kids, they need a little more than just sitting around watching the games on TV. Sure they can run around inside – ugh – but when the weather is nice we like to head outdoors and sometimes when I am feeling creative I like to make up fun games for the kids to play together.
Using your favorite Goldfish® crackers you can create a fun relay game that can be played indoors or outdoors and this relay game can become quite a challenge for your kiddos too! Love a good game that has them thinking and playing at the same time!
Materials Needed:
Goldfish® crackers
Plastic spoons – one for each kiddo
Small buckets or bowls – 2 for each kiddo
Set-up Your Relay:
Depending on the ages of your children and the set up in your yard or home you will set two buckets across from one another in a straight line. Because we wanted our kids to run out some energy on this beautiful Sunday afternoon we set the buckets one each side of the yard! LOTS OF RUNNING!!
Once you have the relay set, simply add 20 Goldfish® crackers to one of each of the buckets for the kids. One bucket will have crackers and the other one will be empty.
Give each child a plastic spoon and explain the rules.
Goldfish® Crackers Relay Game Rules:
The first person to get all 20 of their Goldfish® crackers into the empty bucket wins! Seems pretty simple but the trick is, you have to use the spoon to do this. You can try to move more than one cracker at a time but every time one drops, you have to start back at the start of the relay with that dropped cracker.
Once the 20 crackers are moved successfully, the person must pick up the filled bucket and run back to their starting bucket. The first person to complete this WINS!!
What a fun game this was! It was funny because both Jude and Teagan started out putting two and sometimes three Goldfish® crackers on their spoon which ended up being a bad choice. Towards the end, they got it – slow and steady wins the race! What was fun was also seeing them be able to set up a new relay game by simply counting out 20 crackers and starting again. Love finding games they can enjoy playing together.
Goldfish® crackers always bring fun and smiles to our kids. After our fun afternoon of playing the Goldfish® crackers Relay Game we sat down on the patio and enjoyed some of our favorite Goldfish® crackers together. A great afternoon of family memories being made and yummy snacks being enjoyed. Oh and we played with our food too! Talk about fun memories!
As you gear up for some of these fun basketball games and springtime outdoor time, make sure you stop by Walmart and pick up a few of the 30 oz cartons of Goldfish® crackers. And while you are at it, pick up some plastic spoons and buckets to try out your own Goldfish® crackers Relay game! For more game inspiration, visit this site.
What kind of springtime outdoor activities do you enjoy doing with your kids?