Disclosure: This shop has been compensated by Collective Bias, Inc. and its advertiser. All opinions are mine alone. #LoveTheseCleanPaws #CollectiveBias
For little cat lovers this adorable and super easy DIY Cat Ears Headband will become a favorite sparkly accessory. Using jewelry wire, a headband, glue and sequences make a Cat Ears Headband in minutes!
We have talked about being a cat family a lot and now as the kids get older, especially Teagan, we are seeing their love for our cats more and more every day. While neither of our cats, Sophie and Sundae, are lap kitties with the kids they certainly do love following them around the house, sleeping in their beds and getting snuggles and pets from them. I do think that if the kids would just chill out a bit around them, they would have lap kitties in seconds! Not sure that will ever happen though.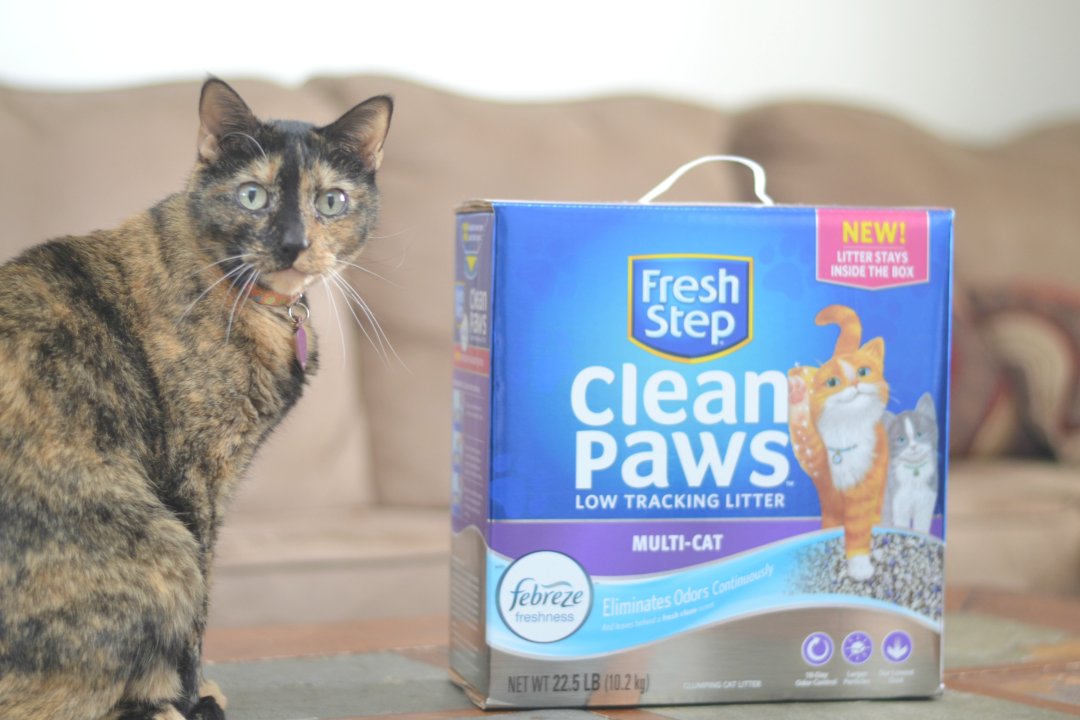 Fresh Step Clean Paws™ Multi-Cat Scented Litter with the power of Febreze™
Click the image above to learn more about this cat family game changer litter! Fresh Step® Clean Paws™ Multi-Cat Scented Litter with the power of Febreze™ freshness is perfect for our multi-cat family. We picked it up on recent trip to Target! Not only does this litter have a 10-Day Odor Control which eliminates odors for ten days guaranteed but it is also a low dust formula that allows for cleaner surfaces and clearer air. Now that we have the odor and dust under control let's talk about that mess that seems to follow the cats around the house.
With a special blend of larger particles the litter is designed to stick less to your cat's fur and stay in the box. This means the Fresh Step® Clean Paws™ litter helps keep paws and your home clean. Bonus for us all! We love our cats but the litter mess has always been an issue and I am loving this new Fresh Step® Clean Paws™ formula. The low tracking formula helps keep litter in the box and off paws and floors, while eliminating odors for up to 10 days.
Like I said we are a big cat loving family. Teagan loves to play vet but also act like a cat around the house. Recently, she has been asking for cat ears to wear because it would make her a better cat sister for Sophie and Sundae. I decided to surprise her with her own sparkly cat ears headband and she was thrilled. Not only has she worn these to play cat but she has also worn them just for fun around the house. I am pretty proud of these adorable little cat ears.
Make Your Own Cat Ears Headband
Materials:
Metal headband
Jewelry wire – I used 16 gauge
Jewelry glue
Wire cutters
Needle Nose pliers
Sequence
Directions:
1. Using wire cutter create one ear shape. Keep in mind that there is no exact science to the proper cat ear for this craft. But I made sure that the ear wasn't TOO tall.
2. If the wire is a bit "crinkled" use the needle nose pliers to straighten out the wire.
3. Attach each ear to the headband by twisting the wire around the headband. I used the needle nose pliers to assist with this which also makes it easy to not have sharp edges poking out from the headband.
4. Once the ears are attached, adjust the shape of the ears if needed.
5. Lay headband down on a paper towel and begin to glue the sequence onto to the "front" of the ears.
6. Let glue dry completely before letting your child put headband into hair.
7. Once glue is dry, carefully place on head and make sure there are no adjustments needed. Have fun!
Adorable right!??! She loves this Cat Ears Headband! So simple but fun for little girls like Teagan. Now, I do not think that Sophie and Sundae think she is a cat but I do think they appreciate her trying to look and act like them. Now that I know how easy it is to make these cat ear headbands I think we will make a few more with other colored sequences and decorations.
Being a cat family has brought so many teachable lessons to our kids. One of those is showing how to care and love our animals. The kids are seeing how sweet, loving and affectionate the cats are to them when they pet and engage with Sophie and Sundae. I love seeing the animal and human bond grow.
Give your cats the best by heading to Target to pick up some of the Fresh Step® Clean Paws™ litter today! Make sure you check out the Cartwheel offer that is running from 4/1 – 4/7! A great time to pick up some of of this litter for your cats!
Are you a cat loving family too?
Febreze and the Febreze Freshness logo are registered trademarks of The Procter & Gamble Company, Cincinnati, Ohio used under license by The Clorox Pet Products Company. © 2018 The Clorox Company.