Disclosure: This shop has been compensated by Collective Bias, Inc. and its advertiser. All opinions are mine alone. #TeaProudly #CollectiveBias
Summertime means outside time. We are so lucky to have great summer weather in Colorado – not too hot or humid. Which means we love spending time out on our deck and backyard. Having some refreshing Iced Tea from Bigelow Tea is a must, especially as we start planning those fun backyard gatherings for holidays and birthdays. Time to enjoy some outdoor tea time and dress up your table with a festive Red, White & Blue Burlap Table Runner.
Start Your Summer Off With A Perfect Outdoor Tea Time
There is something relaxing about sitting outside with a nice glass of Iced Tea just enjoying the beautiful weather and chatting with family and friends. I have always been Bigelow Tea drinker, I certainly Tea Proudly and have for years. I am a hot tea drinker but over the years I have loved making my favorite Bigelow Tea flavors into Iced Tea. It is so simple to create a great pitcher of Iced Tea too. Love anything simple, especially when preparing for guests.
Bigelow Tea is American made and is my #1 choice of tea, not just because I love the quality and taste of their teas but also because I love that they value their consumers. Bigelow Tea has shown me that they are the tea brand I can rely on. They are a Family company of three generations that pride themselves with freshness, United States manufacturing, quality tea and ingredients.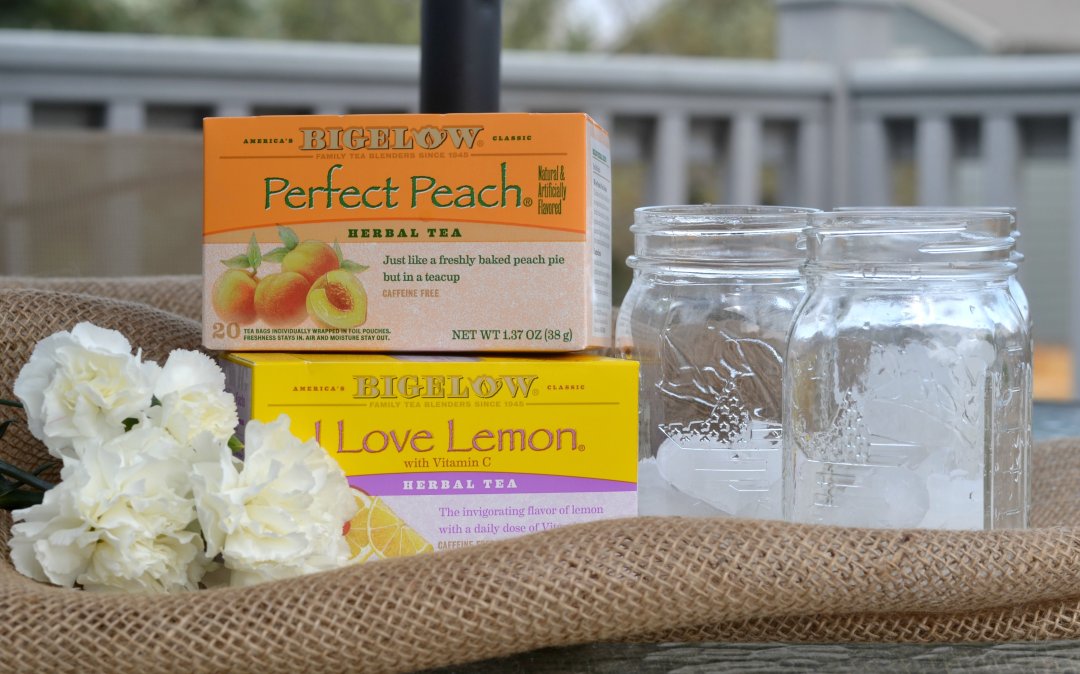 Ready to enjoy your summer outdoor tea time? Make sure you hover over the image above to click through to buy your favorite Bigelow Tea from Walmart.com.
Now that we have our perfect summertime Iced Tea it is time to dress up our outdoor table. With a few Patriotic holidays coming up that usually always involve a backyard gathering I decided to add a little Red, White and Blue to out decor. Now, I would never consider myself an artist or overly creative but this easy tutorial has me pretty proud!!
Red, White & Blue Burlap Table Runner
Materials Needed:
Roll of Burlap – amount depends on how long your table is
Scissors
Wooden Star cut outs
Paint Brush
Red Acrylic Paint
White Acrylic Paint
Blue Acrylic Paint
Directions:
1. Roll out burlap and decide how much you will need for a table runner.
2. Cut burlap and lay flat on table.
3. Start with one color and paint one of the stars that color. Make sure you put a good amount on the start so it will transfer well to the burlap.
4. Carefully "stamp" stars on randomly on the burlap.
5. You will need to add paint a few times to the stars.
6. Repeat the steps with the other two colors – using new wooden stars.
7. Once the burlap is covered in painted stars, let burlap dry completely before use.
8. When ready to entertain your guests for Memorial Day or Forth of July, simply roll the table runner out and enjoy your gathering!
Cute right? So simple but a great addition to any of the "Patriotic" gatherings you might have. I think it gives our table a little makeover with not a lot of effort! Love that!
As you prepare for your summertime gatherings make sure you head to Walmart to pick up some of your favorite Bigelow Teas to have on hand for your guests. You can also find all of the materials needed to make your very own Red, White and Blue Burlap Table Runner while you are there.
Stay Social with Bigelow Tea:
Facebook | Twitter | Instagram
It is going to be a fun summer, get out and enjoy it with your family and friends and some refreshing Iced Tea from Bigelow Tea! I absolutely love the way my burlap table runner turned out and now I am ready to start hosting lots of holiday celebrations. What is more Patriotic than a great glass of Bigelow Iced Tea and fun Red, White and Blue decor? Not much, in my opinion!
What is your favorite flavor of Iced Tea or add-in to enjoy on a warm summer day?