Disclosure: This post is written in partnership with Minted and may contain affiliate links. All opinions are my own.
Create Beautiful Holiday Cards With Minted
Call me old fashioned but I love sending and receiving holiday cards in the mail. Yes, snail mail! Going to the mailbox during the holiday season is fun for me. Seeing photos of our friends and family, updates on their lives and festive wishes just makes me happy. I get so excited when I start seeing those holiday cards show up in the mailbox. Honestly, I wish we all sent more snail mail during non-holiday seasons. Don't you think it would bring a little more cheer to your daily life? Let's start working on that okay?!?
When choosing what holiday cards to send out, I always wanted something unique and beautiful. That is when I found Minted. Now that I have used Minted I will never use another company to make our holiday cards because the options are amazing and the quality are beyond those photo cards you pick up at the store. So, why do I choose Minted? Minted brings so many creative artists into one spot and the gifts and cards that are created are different than any other designs you might see for card companies. Every time I browse through the card options I am blown away at the colors, the designs and creative picture placements.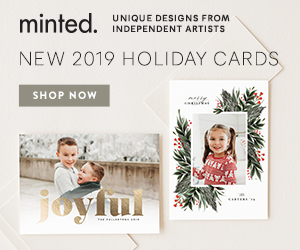 WHO IS MINTED?
Minted is a design marketplace. They source creative content from a global community of independent artists, then sell the best content in the form of art, home décor, and stationery, directly to consumers. Minted's community of independent artists and designers are located in all 50 states and more than 60 countries. They are illustrators and textile designers, painters and packaging designers, marketers and stay-at-home moms. Some have design degrees, and others are participating in Minted competitions to learn design for the first time. They share a deep love for creative expression, personal development, risk-taking, and most importantly, paying it forward by helping each other.
WHAT TO EXPECT WITH MINTED
When you order through Minted you will first have the hardest decision of the season, which card design to choose? Seriously, I can spend hours looking through the designs. So many beautiful and creative options to choose from. Once you decide on your design, you will order the quantity needed and the team will start processing your order. When you receive your order you will see the care that was given to your holiday creation from the moment you open your package. Thank you to Patti for putting our order together this year.
In addition to getting your cards you will get a little biography about the person who designed your cards. I love learning about these artists and their inspirations for the cards. Oh and the first time you hold a Minted Photo Holiday Card you will know the quality. These are not wimpy cards, these are cards made out of high quality stock that adds even more luxury to your delivery.
Enjoy 15% off holiday cards with code MERRY19
For those of you that get our holiday cards, sorry for the preview but I know you will still love getting that card in the mail in a few weeks. For those of you wondering if you should create a holiday card this holiday season – the answer is YES and use Minted. Time to get creative and share a little love and cheer this season. Goodness we all need it!
STAY SOCIAL WITH MINTED:
Website | Facebook | Twitter | Pinterest
WHAT IS YOUR FAVORITE CREATION FROM MINTED? HAVE YOU CREATED YOUR HOLIDAY CARDS YET?