This post is sponsored by Sivan Social. All comments and opinions are my own.
No matter how you stay active, your body type or size – you absolutely deserve athletic wear that is stylish, comfortable and versatile for every day activities. Athleta has introduced their most inclusive style and size range and you are going to love the options as we jump into a new season of activities!
Athleta For All – Active In Style
When I started my wellness journey I bought a good amount of clothing that I would have considered "workout gear". That workout gear has served me well but as I continued on that wellness journey it became clear that my "workout gear" drawer needed some updates. As spring starts to show it's face around here, I am itching to add those hikes and walks back into my wellness routine. And with a new season comes a perfect time for me to update that drawer with some versatile items I know I will use.
Click here to learn more about Athleta For All.
Athleta – The Power Of She!
I have to be honest, even though I am doing really well with adding activity and healthier food choices to my daily routines, I am not at the level I was hoping but I am taking one day at a time and finding that grace that we all should be giving ourselves. Some of my favorite ways of staying active is by going to Reformer Pilates, going for hikes and taking walks. I want something to wear to these activities that have me feeling confident in comfort and in style all while being able to move my body like I need too.
When I first heard that Athleta expanded their sizes to include sizes 1x-3x, I knew I had to check them out. I have always loved the styles that I saw with Athleta, but the sizes just never matched what I needed. There is no doubt that the Athleta style looks great and the quality of the items are super high which is what every BODY deserves!
Never Believed That One Size Fits All
One Size Fits All…don't you hate that? It doesn't matter what size you are, that phrase is terrible because it just isn't possible. Athleta took on the challenge that every BODY should be thankful for. Creating a size inclusive line of clothing. And to be clear, Athleta didn't just add extra fabric to the sizes and call it a day…nope. They worked directly with active women who wear sizes 1X-3X to refit and test each piece to get the fit and performance right for all women. Across their amazing assortment, each piece retains the same design intent and fit, from size XXS – 3X or 00-26!! AND these styles are available online and in-stores, not tucked away in the back corner, but all together, like they should be.
Bottoms From Size XXS – 3X or 00-26
I am super excited to share the items that I have bought from Athleta. First of all, let me be clear, these items might be my first Athleta items but I know they won't be the last. I picked up the Ultimate Stash Pocket Printed 7/8 Tight in the Fluidity Medieval Violet. I loved the color and thought the fun pattern would finally mix up my normal black bottoms.
My first thoughts…SO SOFT…but still had enough support for a casual walk or a cardio class at Pilates. In addition to the two stash pockets on the legs there is also one back waistband pocket. The fabric pulls sweat away from the body to the surface of the fabric so it can evaporate and dries quickly so you stay comfortable even while breaking a sweat. The UPF 50+ rating is a must here in Colorado for that extra protection from the sun.
Follow the size guidelines – my fit like a glove and have quickly become my favorite leggings to wear for my workouts.
Tops From Size XXS – 3X or 00-26
I don't know why but I always buy more bottoms than tops but when I saw this fun Athleta Ultimate Train Tank I knew it would work perfectly for my upcoming hikes and Pilates classes. I LOVE the back of this tank. I feel great in it! Just like the leggings, this top is so soft and comfortable. It is also has the wicking feature of keeping sweat from your body so you stay nice and comfortable during your workout. And once again the added UPF 30+ is a always a great feature when heading outside for your daily workout.
Athleta – A Style For Every Body!
I am pleased with my purchases from Athleta and while the items fit great I think what I loved most about this experience was knowing that any of my friends could have bought the same items no matter their sizes. This makes shopping with your girlfriends so much more fun! A perfect fit, unmatched quality and ultimate comfort are now available in our most inclusive range yet, with hundreds of expertly crafted styles now in XXS to 3X, available online and in-stores.
Quality items are also important me. When I want to buy something for myself I want it to last. I can tell that these items will be in my "workout gear" drawer for a long time! And I cannot wait to add more Athleta items to that drawer soon!
Active With Your Friends
Get up, get out, get active! Finding a support system of other woman to help me feel empowered through my wellness journey has been key in staying focused. Women moving women, forward.   Start making plans for this spring and summer to get outside and do it in style with some of the great size inclusive items from Athleta. Feel amazing while taking care of your body.
Go Shopping With Athleta
Hundreds of expertly crafted styles now in XXS to 3X, available online and in-stores.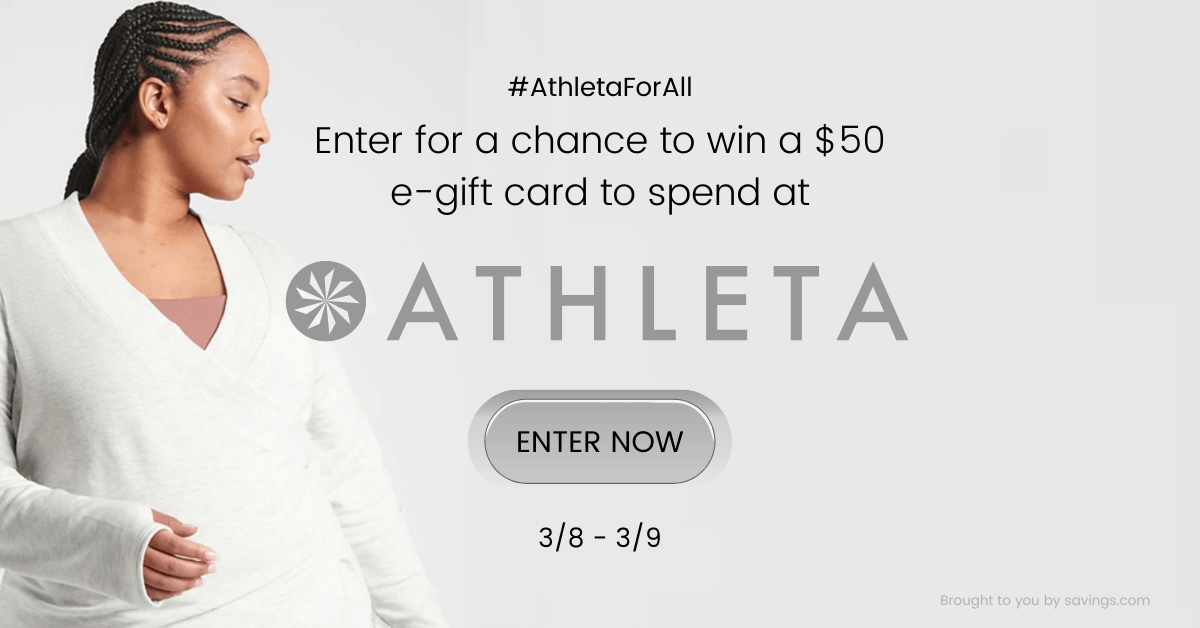 Savings.com is giving away five $50 e-gift cards to spend at Athleta!
Monday, March 8th at 12:00 AM PT to Tuesday, March 9th at 11:59 PM PT.
Five (5) winners will receive a $50 e-gift cards to spend at Athleta.
Users enter the giveaway by heading to the Athleta merchant page on Savings.com and submitting their email address on the form on the page.
The winners will be chosen through a lottery drawing and notified on Wednesday, March 10th via the email address they used to enter.
See complete Official Rules for entry instructions, full prize descriptions, restrictions and other important details.
What item from Athleta are you excited to try first?